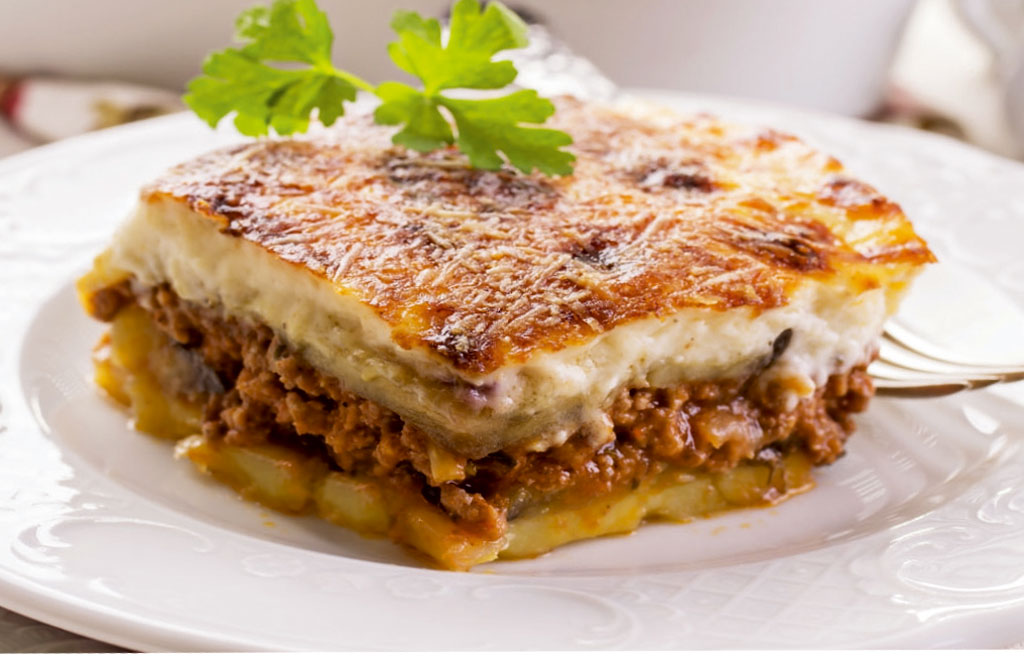 Greek Mousakas Resipe
Ingredients:
1 kilo of aubergines,
½ kilo of minced meat,
1 cup of butter, 1 average-sized onion finely chopped,
1 cup of tomato juice,
parsley,
salt,
pepper,
allspice,
nutmeg,
300 gr. of Feta cheese finely crumbled,
4 cups of milk,
grated gruyere cheese,
Béchamel Sauce
Preperation:
Place half the butter in a pan and sautι the onion,
add the minced meat and stir until the minced meat whitens and
forms into lumps. Then add the tomato juice, parsley, salt, pepper,
nutmeg and allspice. Leave the minced meat and sauce to simmer
until the liquids have evaporated. Prepare the Jotis Bιchamel Sauce
in accordance with the instructions on the packet.
Take one cupful of Bιchamel sauce and stir into the minced meat. In
the meantime wash and cut the aubergines into fine slices. Melt the
remaining butter and using a brush butter the aubergines on both sides.
Place them flat in a casserole dish and roast in a hot oven until golden
brown on both sides. Place a layer of aubergines in an oven-proof dish,
cover with half the minced meat mix and sprinkle over half the Feta
cheese. Repeat, once again covering the aubergines with the minced
meat mix and Feta cheese.
Finally add another layer of aubergines
and place the remaining Bιchamel sauce on top and sprinkle with
the gruyere cheese. Roast in a fan-assisted oven at 180oC for 45
minutes or until golden brown on top.